REMIX OUTFIT
Khaki Pants From Target~19.99
Headband Christmas Gift From Scribble(2011)
Brown Belt Came with a shirt From CR
Brown Earring Gift From Oma
Brown Boots From DSW~ 41.97
Hello Everyone. Happy Thursday. So the weather has been in the 40 and low here. So I decide to wear a sweater again. Also decide to wear my brown boot to keep my feet warm. I just wish it would warm up and stay that way.
So I haven't done an awkward and awesome Thursday post in a long time. Since I didn't have anything to post. Well today I do.
AWKWARD
~Almost falling on my face at work. I tripped over the rug.
~Told a male co-worker I was going to take my sweater off and he goes I wouldn't do that. I just looked at him and said I have a shirt under this.
AWESOME
~ I won Grand Prize in Pongr Fashion Contest.( Another post will be post on this next week)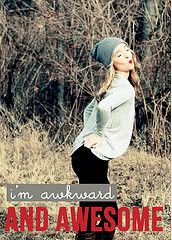 HAVE A GREAT THURSDAY EVERYONE.