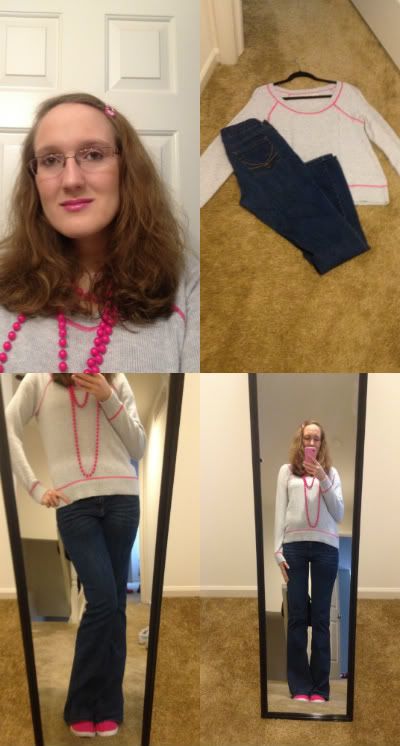 Pink Hair Clip Birthday Gift From My Sister(22)
Pink Plastic Bead Necklace From Walmart~5.00
Pink Shoe From Target~9.74
Hello Everyone. Sorry I didn't post yesterday. I was plan on it. I had the picture taken and everything but after my dentist visit. I didn't feel like it. So I delete the picture. I had to go in for a crown. When I was there they find out. I had a cavity too. So they end up taking care of both things. I was at the dentist for almost 4 hours. When I came home I had such a nasty taste in my mouth. Which the nasty taste finally when away this morning.
Today outfit is kind of a remix outfit. Only thing different this time is my necklace and shoe. The 1st time I wore this sweater I did jeans,scarf and boots. So I'm still going to call it a remix outfit. Also these Sofia By Sofia Vergare flare are becoming my favorite. They are so comfy. Plus I like the length on them.
I HOPE YOU ALL HAVE A GREAT HUMP DAY.