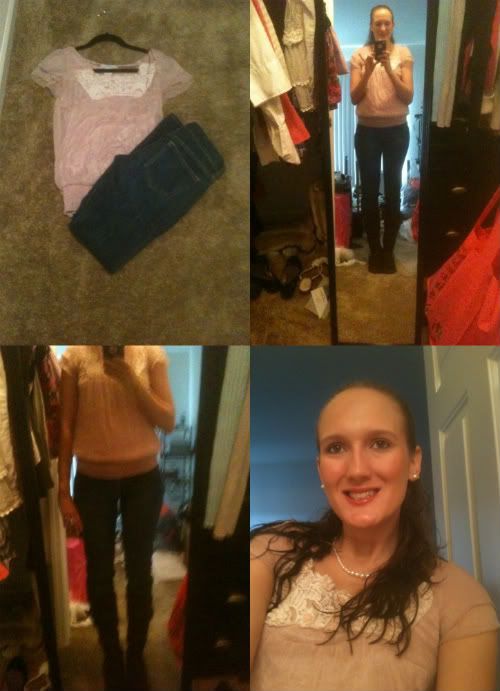 LOOK WHO WENT AND GOT A FULL LENGTH MIRROR.
REMIX OUTFIT ~ Saturday September 10th, 2011
Jeans From Old Navy~26.55
Necklace ~ was a gift from MIL Peg, It was her Grandma necklace
Earring From CR~4.00 w/40% off
Barrette From
Ultra~2.00
Hello Everyone. Yesterday was my mom birthday. I had to work. So we celebrated it on Friday. We went to Red Lobster for the all you can eat Shrimp. Man was it good.
So yesterday I decide to wear this pink shirt. I have now
officially have worn this shirt with all my pants. I love this shirt. It can be dressy or causal.
REMIX OUTFIT ~ Sunday September 11, 2011
Necklace From CR~7.99 I got it for 50%
Earring made From my Tennis Bracelet~ Gift from hubby
Here what I wore to work today. This is the first time I didn't wear a brown belt with this skirt. The skirt is still to big for me. So I just use safe pins to hold it up. Which it worked. I also wore my cowgirl boots and not my brown boots with this skirt today.
After Work Today
Go Loins Go T-Shirt From Old Navy~ Hubby got it for me
Wearing my NEW Lions Necklace and Earring~ Hubby got it for me.
I HOPE EVERYONE HAS A GOOD SUNDAY.