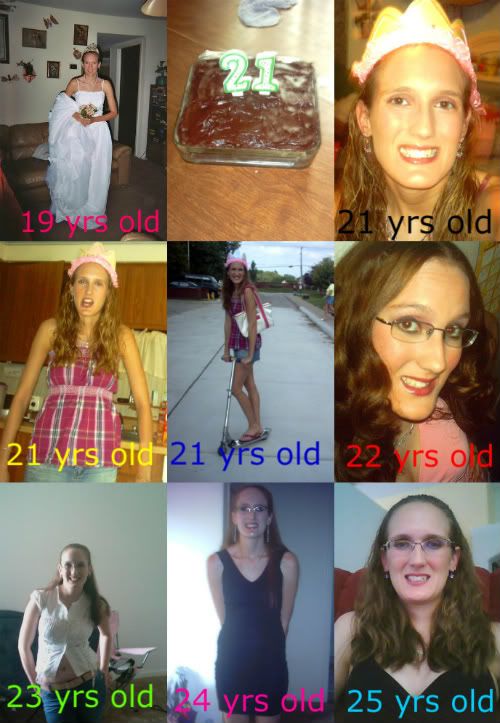 HAPPY BIRTHDAY TO ME.
I thought it would be fun to share some birthday pictures with you all. I don't have any pictures from my 19th or 20th Birthday. So for my 19th Birthday picture I used my wedding pictures. Since I got married right after I turn 19th. On my 21st Birthday I went to my MIL Peggy house first for her to give me my gift. She also baked me a Chocolate cake. Then I spent the whole day with my friend and my sister. We went shopping. Later that night we went out to Red Lobster with my family. It was a fun day. Only thing missing was Hubby he was in Germany at the time but he did spoiled me buy buying me tons of clothes. My 22nd Birthday was spent in Germany. Hubby and me went to see Harry Potter. For dinner we have french fries due to the food stand ran out of meat. Then at midnight we went and brought the last Harry Potter Book. On My 23rd Birthday Hubby and me were in FL. We went shopping and out to dinner. On my 24th Birthday My little Sister was in town. My sister and I went swimming during the day. Then in the afternoon Oma, my Sister and I went shopping. Oma got me a Huge birthday cake.
Last year which was my 25th birthday Hubby and I went to the movie and went out to dinner. We also did some shopping. Today I will be work until 4:30 it is the first year that I have worked on my Birthday. Tonight I'm not sure what I will be doing.
I hope you all have a great Wednesday

.
Happy Birthday to all the July 20th Baby's.