Top Row May 18, 2014: Bottom Row June 22, 2014
Hello Everyone. It's been 30 day since I wrote that I was going to be doing Insanity. As you can see in the picture my body has change a little. It still a work in process. I'm happy with the small result that I have gotten so far. I can't wait to start seeing more. Which these last two weeks I have slightly fallin off the wagon. I haven't been working out 6 days a week like I was. I have been doing more walking and counting that as my work out. I need to get back on track again and start doing the insanity work outs again. I'm not going to lie there were days that I skipped the insanity workouts and did a 10 minute trainer instead. They also were day that I did both work outs.
I have been working out for a total of two month now. Which the first month I did a mixture of home workout videos. Then second month I did insanity and 10 minute trainers. As a result from eating right and working out. I have now hit my first goal weight which was to get back down to 2013 summer weight. Which was 135. I still have a good way to get to my Michigan weight but I know I can do it.
Instead of moving on to the second month of insanity. I'm going to redo the first month over again. Which I will do another update post on how things are going in a month.
Here are my total results.
Starting weight April ~143
May~ 137.6 ~ Mixture of workouts
June~133.6 ~ Insanity and 10 minute trainer
Total weight lost~9.4 pounds
Please no negative comment.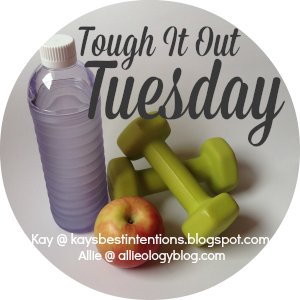 Yesterday I was feature over at Tiffany of Endless Bliss.
HAVE A GREAT TUESDAY.