REMIX OUTFIT
Flower Belt From Style~6.99
Fit Bit Hand Me Down From Hubby


Gotta Flurt Shoe Gift From Hubby for my Birthday~ 13.00 from DSW
Hello Everyone. I love this outfit so much. I pinned it twice on my fashion idea board on pinterest. I did change a few thing up from the inspiration picture. Instead of tie the shirt at the bottom. I tuck it in. I did try tie the shirt but it didn't work out for me. In stead of heel I went with my converse knock off. Which work better for me. To do my grocery shopping in.
I can so see myself wearing this outfit again. It is so easy to throw on and comfortable to wear. I have 5 more outfit left in my 30x30. Which I only know what I'm going to wear for 1 of them. So far I have worn everything twice beside my hot pink skirt.
Flower were a Euro a piece. (1.37 Dollars a piece)
So yesterday when I was at Ikea I pick up these flower for my office. Which now my little corner is complete. The bottle the flower are in. Is a bath and body work bath salt bottle. I just removed the label and washed the bottle out. Also the picture frame on the dresses is the tray I made out of a broken picture frame. I find at the recycling center. You can see it better in this post. The tray used to live in the bathroom but once we got the new cabinet we lost cabinet space in the bathroom. So I had to rearrange some things around. I'm really happy how this side of the office turn out. I still have an okay amount to do in here.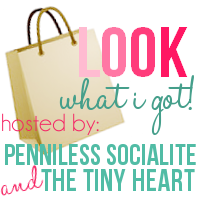 HAVE A GREAT THURSDAY.