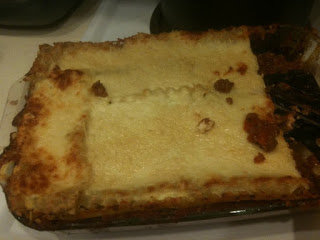 Picture From 2012
Ingredients
8 ounces
lasagna noodles
1 pound
lean ground beef
2/3 (28 ounce) jar
spaghetti sauce
2 pounds
ricotta cheese
1/2 cup
grated Romano cheese
1
egg
1/4 cup
dried basil
1 clove
garlic, pressed
1 (8 ounce) package
sliced pepperoni sausage
8 ounces
mozzarella cheese, shredded
Directions
1.Preheat oven to 375 degrees F (190 degrees C).
2.Bring a large pot of lightly salted water to a boil. Add pasta and cook for 8 to 10 minutes or until al dente; drain.
3.In large skillet over medium-high heat, cook beef until brown; drain. In small saucepan, heat spaghetti sauce.
4.In a medium bowl, stir together ricotta, Romano, egg, basil and garlic.
5.Coat the bottom of a 9 x 13 baking dish with a thin layer of spaghetti sauce. Place 3 or 4 noodles, overlapping edges, over sauce. Spread half of ricotta mixture over noodles. Cover ricotta with half of browned beef, half of pepperoni slices, and 1/4 of mozzarella cheese. Repeat sauce, noodle, ricotta, meat and cheese layers. Layer sauce and noodles again, and pour remaining sauce over all, being sure to cover the edges. Top with remaining mozzarella.
6.Cover pan with foil and pierce foil 3 or 4 times with fork to ventilate. Bake 45 minutes, remove foil, and bake 15 minutes more to brown the top. Let stand 10 minutes before serving.
Recipe from
Hello Everyone, This month recipe is an oldie but a good one. I started using this recipe back when I lived in Florida. Everyone time I make I burn it a little.
I can't wait until we get our house key in 20 days. That way I will have a kitchen I can cook in again.
I HOPE YOU ALL HAVE A GREAT SATURDAY.