REMIX OUTFIT
Grey Thin Sweater From Aeropostale~39.50
Grey Stripe Cover up from Ross-7.99
Lace White Cami From Old Navy~Hubby got it for me
Curvy Skinny Jeans From NY&Company Christmas Gift From Janet
Silver Hoop Earring Christmas Gift From Camille of
Heart Necklace From Target~1.00
White Eyelet Headband From Target~4.99
Uggs Boot Christmas Gift From Hubby(when we lived in Germany)
Hello All. Since today photo of the day on Instagram is stripes. I decide to wear this grey stripe cover up. Since the last time I wore it was in June. So
it
was time to bring it out again. Since we are still having cold weather. I layered it over this thin grey sweater. That is super old. I have actually have sewn this sweater back together. Since I love it so much. Speaking of love. I love how my hair turn out today. I'm starting to get the hang of my new hair do.
Since it is Thursday that means it is Awkward and Awesome Thursday.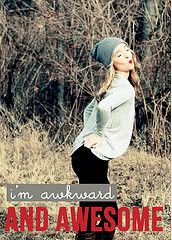 Awkward
~Hitting my head on the bedroom door as I was talking on the phone
~Ring a customer up at work and then phone ring. So I pick it up and help the person on the phone. Then I look at the customer I ring up and say hi, how are you. We both start laughing because I totally asked that at the bring when they came up.
Awesome
~ Being one of the lucky winner in the Crest 3D White Brand Challenge on
I HOPE YOU ALL HAVE A GREAT THURSDAY.