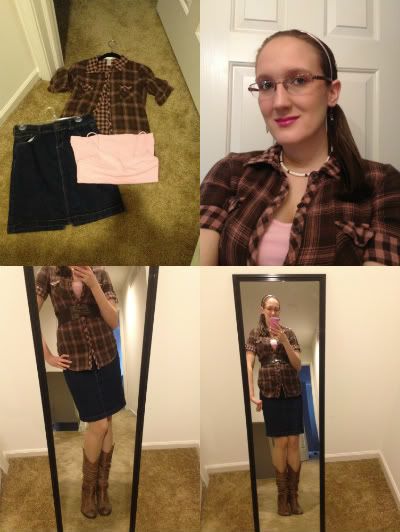 REMIX OUTFIT
Pink Cami From Forever 21~2.50
Belt Came With this Shirt
Headband From a Store in Germany
Necklace From Weather Vane
Brown Earring Gift from my Oma
Ann Klein Tights From DSW-9.95-30% off
Cowgirl Boots From DSW-139.95~30% off
Hello Everyone. It the dreaded Monday again. That most of us hate. I personal don't mind Monday. I like them more when I don't have to work them .
I woke up a little late today. So I decide to wear a skirt today. Since it is east to put on. Plus it suppose to be 70 out today. So a prefect day for a skirt. I have notice I been a on belting kick this last week or so.
Oma (Grandma in German
Happy Birthday Oma. I hope you have a great Birthday. Love you lots.
I HOPE YOU ALL HAVE A GREAT MONDAY.