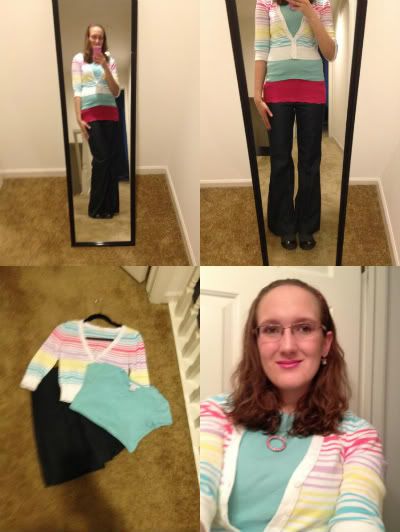 REMIX OUTFIT
Light Blue T-shirt From CR~4.99
Pink Cami From Aeropostale~ 19.50
Denim looking Dress Pants From Target~26.99
Pink Headband From Target~1.00
Pink Earring From H&M when I was living in
Germany
Flats from Charlotte Russe-14.99
Hello Everyone. Happy Monday Everyone. Where did the weekend go.
Since it is raining outside. I decided I wanted a fun outfit to wear. So colorful stripes it was. I haven't worn this cardigan since July. So it was time to bust it out again. Plus the weather has been nice to wear it.
I won this
beautiful necklace from
Fancy Steps
Valentines Giveaway. You should go check them out. They have tons of cute items to buy.