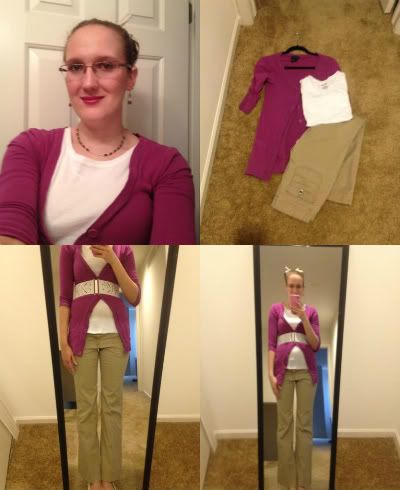 REMIX OUTFIT
White T-Shirt From O
ld Navy 8.50
Gap Wide Leg Khaki Pant They were a Christmas Gift (2010)
Earrings and Necklace Christmas Gift From My Sister(2008)
Ribbon From A Pack of Washcloths From Target that I brought~Free
White Belt From Target~3.74
CL by Laundry Genuine Flat
From DSW~ 27.96
Hello Everyone. Today is going to be another nice day out. At least that's what the new says. So I decide to pull out my ivory/cream flat to wear today. Its been month's since I wore them last.
I also decide to wear this purple cardigan. I'm not sure how many more use's I will get out of it. Since its starting to get small on me.
I HOPE YOU ALL HAVE A GREAT THURSDAY.