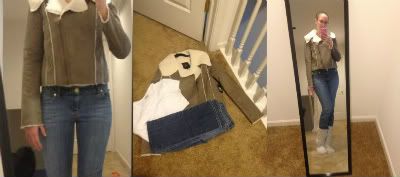 White T-Shirt From Target~5.00
Jeans From Target~ Super Old
Boots From Old Navy~34.50~ I got them for 30%
Hello All. Today is my day off. So I spent the morning running around. Getting my oil change in my car and getting Priscilla pet license. After that I came home to clean house.
For today outfit I knew I want to wear this new jacket that I got a couple weeks ago in the mail from Nicole. This BB Dakota Jacket is from Lulu*s. It is so warm and comfortable. I was very surprise for it being a small it fit's me very well. I was worried the arm where going to be short. Since I get all my jacket in a medium for the lengths.
Well I'm off to fold clothes.
HAVE A GREAT TUESDAY EVERYONE.