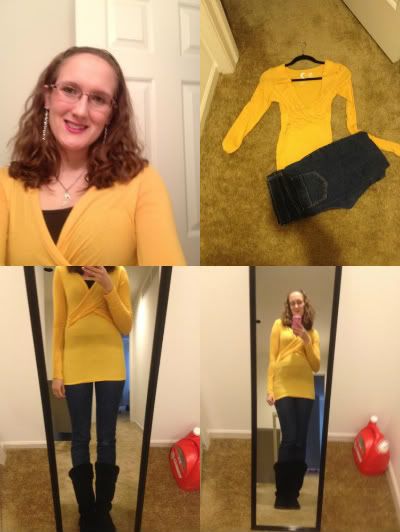 REMIX OUTFIT
Black Cami From Victoria Secret ~ 14.50 or 3/30
Sweetheart Skinny Jeans From Old Navy~ 18.53
Shoe Necklace From Forever 21~2.80
Earring Not Sure Where They Came From
Headband From A Dollar Store or Gift not sure
Bare Traps Boots From DSW~ Gift From Hubby
Hello Everyone. I can't
believe
it's Thursday again. Where are the weeks and days going. So today I put my wedding ring back on after a week of not wearing it. I had a rash under my ring. So therefor it hurt to wear my ring. I have gotten told I might be
allergic to my ring. Which seem odd to me since I been wearing it for almost 8 years now. When I stop in the jewelry she told me to put clear nail polish on it. So I'm going to try that out to see if it will help with me not getting the rash again.
For today outfit I decide to wear this golden long sleeve shirt. Which I'm on the
fence about it. I like it but don't love it. I had it for 3 years and maybe worn it 4 time. I'm just not crazy for the cross over part.
Specially seen it won't stay together. So after today I'm thinking it's might be going to the goodwill pile. Also this is the first time I'm not wearing it with black pants or a white cami. If
it doesn't hit the goodwill piles then I going to wear it with a brown tank under it next time.
I HOPE YOU ALL HAVE A GREAT THURSDAY.