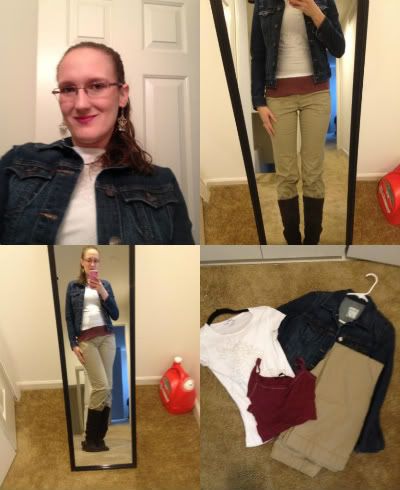 REMIX OUTFIT
Maroon Tank From Target~5.00
Gap Wide Leg Khaki Pant They were a Christmas Gift (2010)
Earring From CR~4.00- 40% off
Brown Boots From DSW~ 41.97
Hello Everyone. This is what I wore to work yesterday. I was going to post it last night but when I got home from work. I wasn't in the
greatest
mood and didn't feel like posting. I have beat my shopping record on buying clothes. I have going a total of 73 days with out buying clothes. My record was 71 days. I want to try to go 3 months with out buying clothes. Which might be hard for me since Old Navy is having a sale on Jeans. I'm going to try my best not to go. I do have a 50 dollar gift card for there that my parent got me for Christmas. That I still need to use.
I wanted to thank you all for your suggestion on my Golden top and wedding ring.
HAVE A GREAT SATURDAY AND WEEKEND.