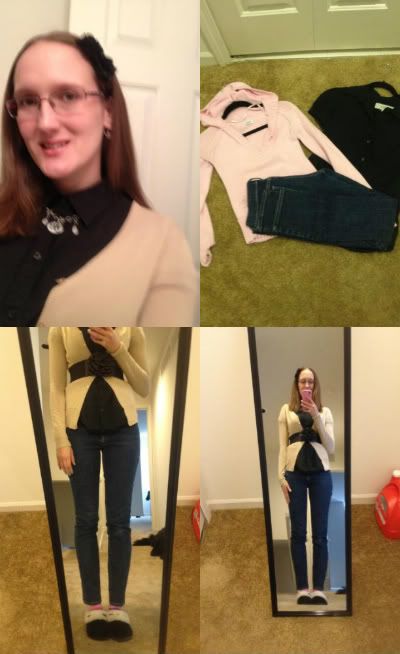 Black Button Up From Target~14.99
Sweetheart Skinny Jeans From Old Navy~ 18.53
Flower Belts From Style~6.99
Flower Bobbie Pin From Fore
ver 21~1.50
Nine West Earring From The Px
Lia Sophia Mother Of Pearl Of Necklace Christmas Gift From My MIL Peg Friend
Bare Traps Boots From DSW~ Gift From Hubby
Hello Everyone. This Morning Hubby and Me went to Ihop for breakfast. After that we ran to costco to get a couple things. We pick up a dog bed for Priscilla. Hoping that will fix her from jumping up on the couch when we aren't home.
So I was going to wear my pink hoodie sweater but I didn't like how it look. So I change it for my Beige Cardigan which I haven't wear in a few month. Also this is the first time that I'm wearing it with jeans. Also no worries. I didn't wear my slipper to work. Since it was snowing out I left my boots down stair.
I HOPE YOU ALL HAVE A GREAT SATURDAY.