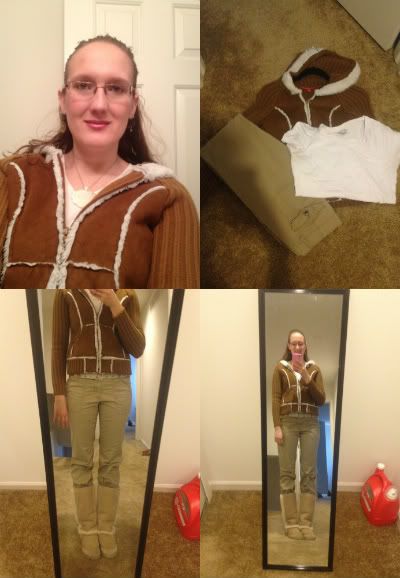 REMIX OUTFIT
White T-Shirt From Target~5.00
Gap Wide Leg Khaki Pant They were a Christmas Gift (2010)
Necklace From Target~1.00
Uggs Boot Christmas Gift From Hubby(when we lived in Germany)
Hello Everyone. This is what I wore to work yesterday. I ended up working a 9 hours work day. Due to we had no one to open the store with the manger. So at 9am I got a phone call asking if I could be in at 11am. I said that I could be. So I hung the phone up and started to get dress.
At the end of the night I was mopping the floor at work and my elbow hit a purse tower. Well the mop ended up pinching my finger and now I have a nice blood blister on my baby finger. That's one reason why I didn't post this yesterday and another reason was. I was just plain tired.
I HOPE YOU ALL HAVE A GREAT MONDAY.