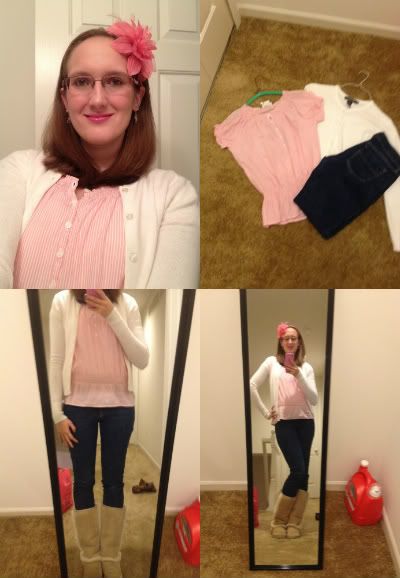 REMIX OUTFIT
Sweetheart Skinny Jeans From Old Navy~ 18.53
Pink Flower Head Band Gift From Secret Santa From Work
Earring Not Sure Where They Came From
Uggs Boot Christmas Gift From Hubby(when we lived in Germany)
Hello Everyone. For today outfit I decide to wear jeans since we where get a truck with 175 case on it. Now I can only wear jeans one more time this week to stay with my

New Year resolution. Which is not to wear jeans 5 days a week to work. Work was good. I was super busy unpacking box's and redoing fixtures. Which I enjoy doing this. I love see all the new stuff that is coming in.
I return my White and Blue Puma today for the size I needed and I got them for 11.54 cheaper then what I brought them for. Since they went clearance. That made my day. After work I went to Kroger to buy some stuff I needed. Came home and got the mail. Which I had an envelope from Pongr and it had a 25.00 gift card to AMC Movie theater in it. So That made my day too.
I HOPE YOU ALL HAVE A GREAT WEDNESDAY.