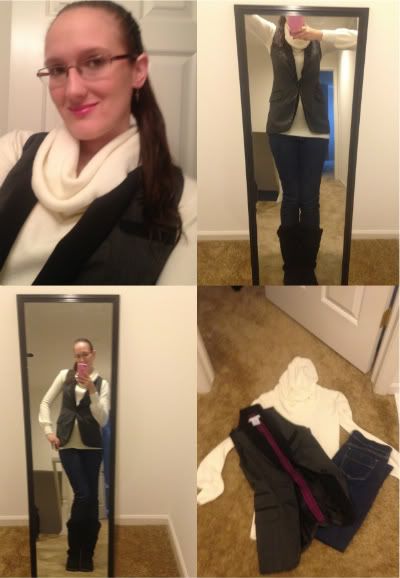 REMIX OUTFIT
Sweetheart Skinny Jeans From Old Navy~ 18.53
Tinkerbell Earrings From The Px
Black Headband Gift From MIL Peggy
Bare Traps Boots From DSW~ Gift From Hubby
Hello Everyone. You know it is December when you wake up in the morning and it is snowing. I love it for the most part. I know as the season goes on I will probably need up hating it and want it to be over with but for now I like it.
Also these skinny jeans are my favorite. I have realized that I wear them a lot. I'm so going to have to get another pair of them. Also today I decide that I was going to try to wear a vest over this sweater. Which I think it turned out very good. Plus its a different way to wear. You all know how I love to remix my clothes.
Today Christmas Item is my Snowman Sock that I'm wearing today.
HAVE A GREAT FRIDAY AND WEEKEND.