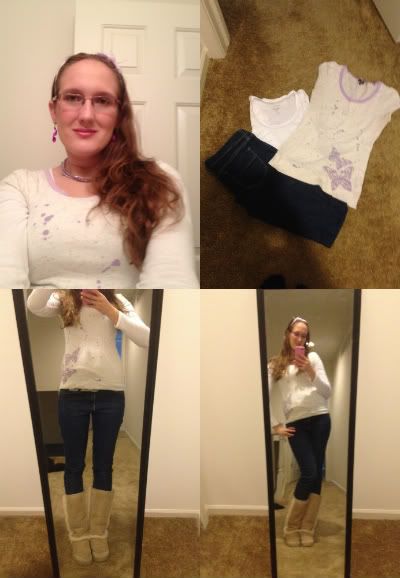 REMIX OUTFIT
White Long Sleeve From Old Navy-4.00
Sweetheart Skinny Jeans From Old Navy~ 18.53
Necklace From Target~ on clearance For .84 Cent
Purple Earring Gift From MIL Peggy
Purple Headband From Target~1.00
Uggs Boot Christmas Gift From Hubby(when we lived in Germany)
Hello Everyone. Happy Friday. Today I pre-made dinner for Hubby. So all he has to do is pop the Chicken Mac n Cheese in the oven for an hour to bake. So therefor when I get home from work I just have to eat it. Which is nice.
Do you guys have New year eve plans yet? I'm still working on mine.
Also if you get a chance let me know what you favorite outfit was for 2011. I'm going to be making a special post on it next week.
I HOPE YOU ALL HAVE A GREAT FRIDAY.