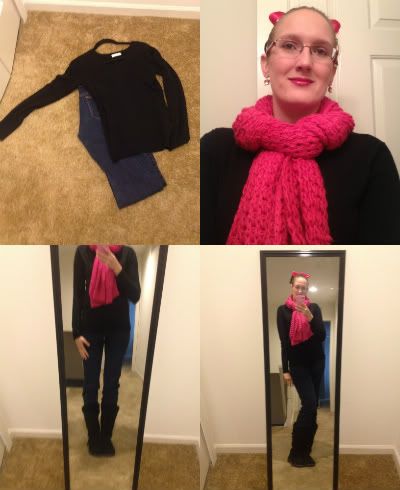 REMIX OUTFIT
Flirt Boot Cut Jeans From Old Navy-18.43
Pink Scarf Gift From My Secret Santa From Work
Pink
Ribbon Free from VS was on a Birthday Gift~FREE
Bare Traps Boots From DSW~ Gift From Hubby
Hello Everyone. Happy Thursday. Its a cold and snowy day here today. So I decide it would be a prefect time to wear my new pink scarf to work that I got from my work secret
Santa
. It been a good couple weeks since I did Awkward and Awesome Thursday. Since I had some Awkward thing happen to me this week I decide to do it. Plus it will be my last one for 2011.
Awkward
~ Getting the strings from my coat stuck in the register at Walmart. As I was doing self check out.
~Have my phone fall in to the trash can
Awesome
~ Having a great Christmas with my family
~ That everyone love the cookie I baked
Don't Forget to enter my

Forever 21 Giveaway. Tomorrow is the last day to enter.
HAVE A GREAT THURSDAY EVERYONE.