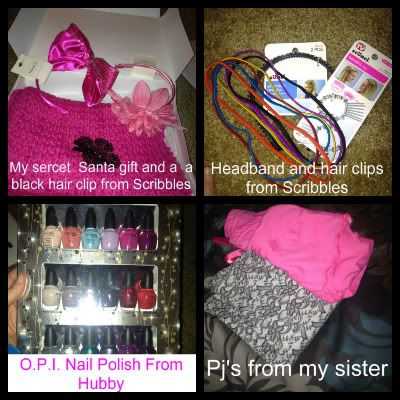 Hello Everyone. Happy Tuesday. I hope you all had a good Christmas. I had a very nice one with my family. The food I made turned out great. Everyone loved there gift. We played a lot of xbox and watched tv.
I'm going to share the gift I got with you all. I'm not trying to brag in any way.
Pj's From My Sister

Fleece Pj's From Hubby

2 Electric Can Openers One From my Parents and One From My In Laws

Head Bands and Hair Clips From Scribble

A Pink Scarf From My Secret Santa From Work

A Pink Bow Head and A Pink Flower Head Band From Secret Santa From Work

50.00 Old Navy Gift Card From My Parents

O.P.I Nail Polish Set From Hubby

Breast Cancer Awareness tote Bags From In Laws

5 Ornaments From BIL Johnny

2012 Dog Calender From Aunt Terry

2 Christmas Vase From Grandma M

4 Olga Gift Cards From Grandma M

Pizza Remove for the oven From In Laws

My Favorite Candy's From MIL Peggy

Shoe Tape From Hubby

Heating Pad From Hubby

Some Under Armor Clothes From Hubby

Candy From Hubby

Lottery Tickets From My Cousin Dale~ I hit 5.00 on it

30.00 VS Gift Card From My Best Friend Janet
So That's My Christmas Gift Haul. I got everything on my list. My Secret Santa told me that I was so easy to shop for. I hope you all enjoyed this and got everything you wanted.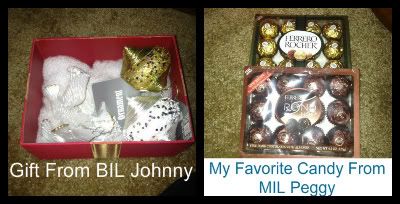 HAVE A GREAT TUESDAY EVERYONE