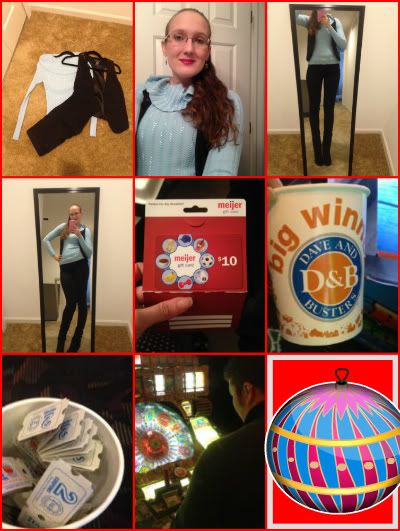 REMIX OUTFIT
Black Gap Skinny Pants Christmas Gift From Oma or Parents
Snowflakes Earring From Target~1.49 on clearance
Impo thunder booties~DSW Gift From Hubby
Hello Everyone. Today I went to Hubby Work Christmas Party. It was at Dave and Buster. We had a good time. They did a raffle and the people that won got a $20 gift card to Meijer. I didn't win but everyone left with a $10 gift card to Meijer. Which I thought that was nice. Hubby played the claw machine and won a mini Lions football. After the party we went to Applebee's for dinner. Now we are home relaxing for are bigger day tomorrow.
Today Christmas Item is my gift tags. Aren't they cute.
I HOPE YOU ALL HAD A GOOD THURSDAY.