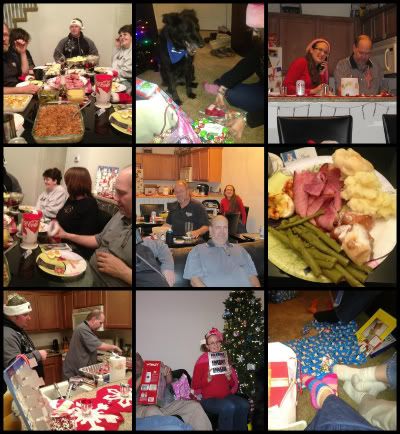 Dinner time, Priscilla Yawning at Bethany b/c she taking to long, Dad and Me, More Dinner Time, My Dad and Hubby, My new opi Set and me, The warping paper mess.
Hello Everyone. Today I'm going to share my Christmas Day with you all. Hubby and Me woke up around 8:30ish and went down stairs to opened are stocking up. After that I made cinnamon rolls for breakfast.
Around 11:00ish my Parent and sister come over. We sat around and talked. Played some xbox 360 and watched Christmas movies. Then around 3ish my in-laws came over. Then at 4pm we ate dinner. Which everyone loved dinner.
After dinner we opened gift up. Everyone had so much fun doing this. My Sister was such a big help and passed all the gift out to everyone. She even helped Priscilla open her up. After we got done with gift we ate desert. Which I had no idea that the frozen pumpkin pie was going to take 2 hours to cook.
My dad brought pre-made pie to bring over but on Christmas Eve Casey their dog ate two 10 inch pies. So my dad on Christmas day find a place open and brought the frozen one. Which was good. We just couldn't eat it until 8pm. Around 9:30 everyone went home.
At 10:30pm my Cousin came over and ate. Then Hubby and him play xbox 360 to 2am. So over all we all have an amazing day.
I love my family so much and I'm so glad to be back around them all again.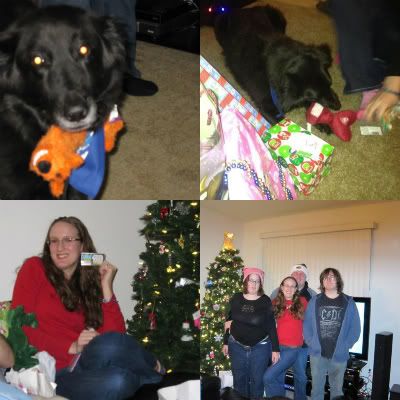 Priscilla Stuck Her new toy in her collar that Grandma Peggy got her,
Priscilla Play with another new toy From Grandma Peggy
Me and My winning lottery ticket.
Bethany(My sister), Me, Johnny(Hubby Brother), Hubby
I HOPE YOU ALL HAVE A GOOD WEDNESDAY.