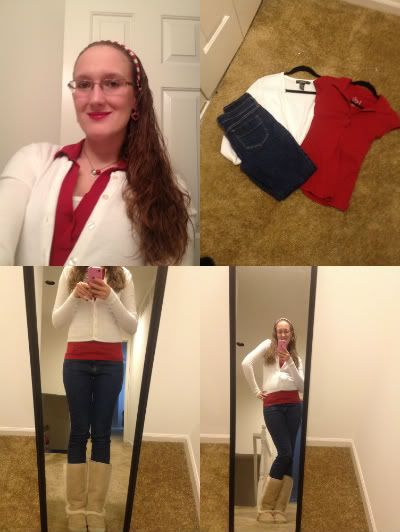 REMIX OUTFIT
Sweetheart Skinny Jeans From Old Navy~ 18.53
Jingle Bell Necklace From The Px
Red Heart Earrings Birthday Gift From Scribbles(26th Birthday)
Red and White Head Band From Target~ 2.99 it was part of a 12 piece hair gift~ Christmas 2007
Uggs Boot Christmas Gift From Hubby(when we lived in Germany)
Hello Everyone. Today I'm Joining
Collette of
Statement in Fashion
and other blogger is wearing Christmas Colors. So I decide today would be prefect to do my annual Candy cane look. Click here to see
last years
candy cane look. You can also see the years past by looking at my Facebook album named
Christmas
.
I did a little DIY today. I have had this red and white headband for year and it to small for my head. So I cut it and put it over a black headband. Bam I have a new headband that won't hurt my head.
Also you will be seeing me wear my Uggs Boot more due to my brown boot gave out on me last week :(
My Christmas Item for today is my awesome red and green nails.
I HOPE YOU ALL HAVE A GREAT TUESDAY.