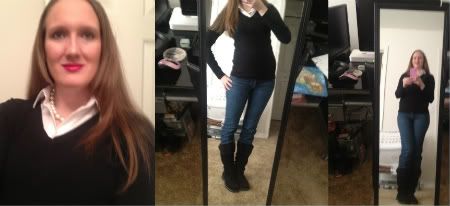 REMIX OUTFIT ~ Saturday 11-5-11
White Dress Tank From New York an Company~ I got it for 50%off
Jeans From Old Navy~26.55
Bare Traps Boots From DSW~ Gift From Hubby
Work was good yesterday. After work I went to my MIL Peg's House to give her a gift for her birthday.
So over all it was a good day. Plus I like how my outfit turned out.
REMIX OUTFIT~SUNDAY 11-6-11
White T-Shirt From Target~5.00
Pink T-Shirt From Target~8.00
Hydraulic Jeans From CR~7.99
Yellow Headband From The PX~2.99
Pink
Nike Ace 1983 A Gift From Hubby
Hello All. Today at work was wear your athletic shoe to work. So these Pink Nice Ace are the close's thing I have. So I decided to wear them. I felt a little weird today with how I was dressed at work. I felt very dressed down. My co-workers felt the same way as me. Some how today I got either shoe cream or shoe shine on my hands and ended up wiping it on my zip up as I was pushing my sleeves up. I hope oxy clean will get it out. Wish me luck.
I HOPE YOU ALL HAVE A GOOD SUNDAY.