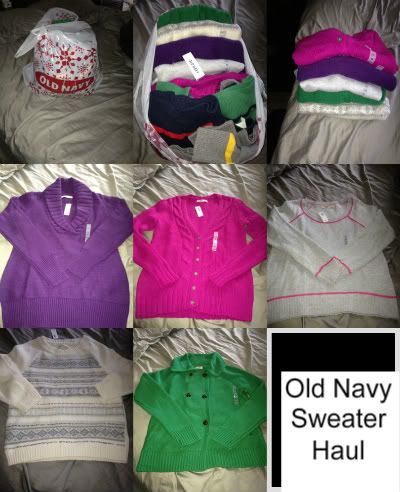 Hello all. I wasn't planing on going to Old Navy today. It just happen. Hubby and Me were in the car going to Denny's for breakfast. When I read a tweet from Old Navy saying 75% off Adult sweaters from 12-5. So we decide to go. Since we both don't have that many sweaters because we didn't need them in Florida but we sure do need them now that we live in Michigan. So I got 5 sweater and hubby got 6. We should be good. I still want more sweaters. They are on my Christmas list. After I got home from Old Navy I was looking in my new issue of seventeen magazine and the white and grey sweater in featured in there.
Now to break down how much I spent.
1. Green Sweater with brown Buttons Normal 44.94 after 75% off=11.23
2. Seventeen Feature Sweater Normal 39.94 after 75% off=9.98
3. Pink Sweater Normal-32.94 after 75%=8.23
4. Grey and pink Sweater Normal 34.94 after 75%=8.73
5. Purple Sweater Normal 36.94 after 75%= 9.23
So overall it was a good shopping day.
I HOPE YOU ALL HAVE A GREAT SUNDAY