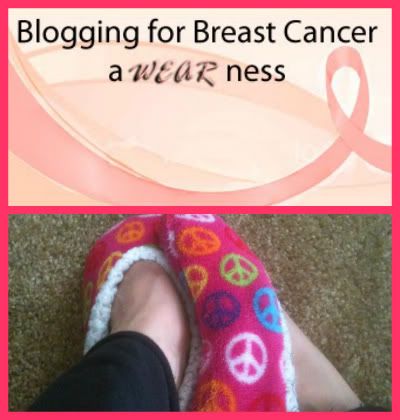 Hello Everyone. Today is a rainy day out and since I'm off work. I decide that I'm staying in my Pj's. So no Outfit post today but if you would like to see what I wear as Pj's. Click HERE. So for my Pink today I supporting my pink peace slipper socks. Also I thought it would be fun to share some pink Items that I own.
I own 16 pink tanks and cami.
See all My Shoe HERE
I own 10 pairs of Pink shoe. I gave 2 pink shoe to good will.
So that just give you and idea of how my pink stuff I own. The list can go on and on but I haven't counted the rest of my pink stuff.
Most of you know I have been obsessed with pink stuff for years. So when I see it or friend and family see it they buy it for me. What can I say I'm a true girly girl.
I'm still out to get a pair of pink flats.
Today breast cancer item is Warriors in Pink. I used to have a one of the Ford's Breast Cancer scarf but must have lost it in a move.
I HOPE YOU ALL HAVE A GOOD WEDNESDAY.