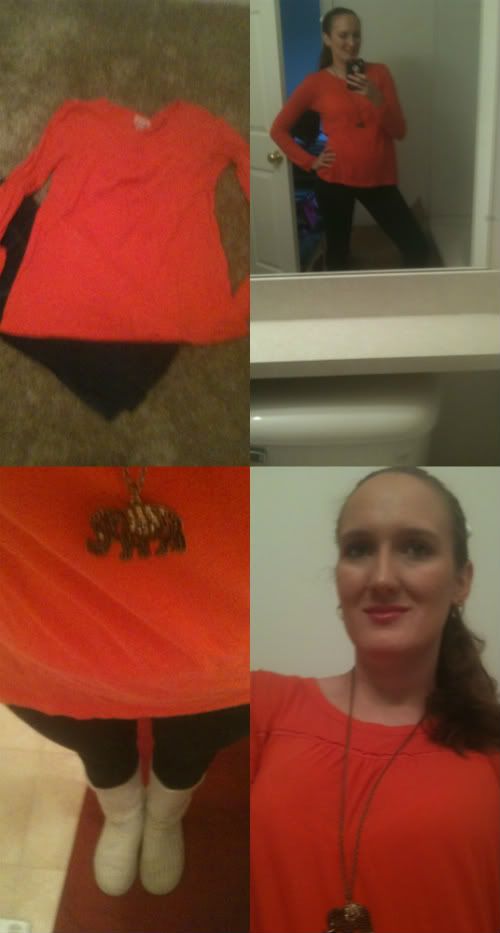 REMIX OUTFIT
Orange Long Sleeve From Target~3.24 on Clearance(have had it for a few years
Sweetheart Skinny Jeans From Old Navy~ 18.53
Elephant Necklace From Bed Bath and Beyond~3.17
Earring From A Secret Sister Christmas Swap
Ribbon From A Pack of Washcloths From Target that I brought~Free
Boots From Old Navy~34.50~ I got them for 30% off 2 year ago
Hello All. Happy Sunday. I can't believe the weekend is over. Where did the week go. I didn't know what I wanted to wear today. I'm trying my best to save my pink clothes for BBCA. Which is Blogging for Breast Cancer aWEARness.
started this last year. Which it starts on October 1st. I'm very in to spreading the word around. Since I have had family die from Breast Cancer. I sign up for it last year and had so much fun. I did wear pink for 31 day. You can see all my look under the label Breast Cancer. If you want to do this to. Make sure you sign up on
.
With today look I wanted to be comfy and cute. Since I was doing handbag and sock mark downs. I end up buy some new sock due to the price. I couldn't pass it up. Plus living in Michigan now. I will need them.
I HOPE YOU ALL HAVE A GOOD SUNDAY.