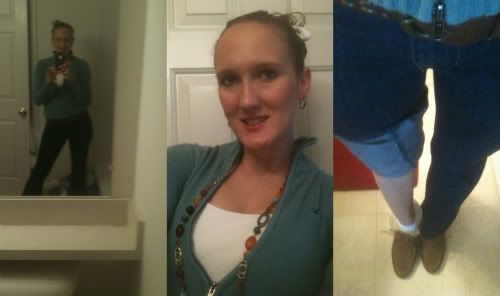 REMIX OUTFIT
White Cami From Victoria Secret ~ 14.50 or 3/30
Flare Jeans From Old Navy~25.00
Ribbon From A Pack of Washcloths From Target that I brought~Free
Necklace From CR~7.99 I got it for 50%
Earring From A Secret Sister Christmas Swap
Hello All. Happy Tuesday. Here what I wore to work on Labor Day. It was cold out. It was in the 50's all day. So that made it hard for me to get dress. I changes 3 times, no joke. Then I just settled due to I had no more time left. Over all I liked my outfit.
I'm going to have to buy more sweaters. I don't have many since I was living in Florida for the last 3 years.
Good news: I found my clothes and the unpacking is getting there. I should be done with it this week I hope. Then I should be back to my everyday posting.
I HOPE YOU ALL HAVE A GOOD TUESDAY.