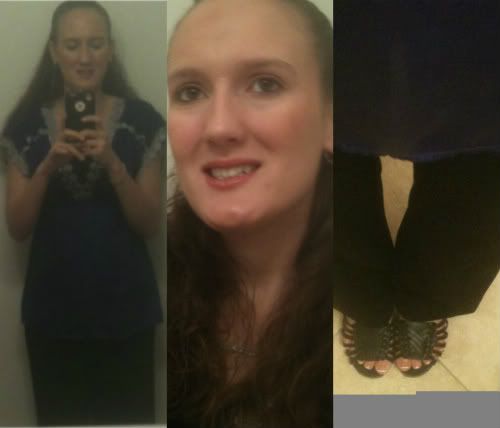 REMIX OUTFIT
Black Cami From Target~9.99
Black Wide Pants From New York Company~ Christmas Gift From Oma or Parent
Hello Everyone. Happy Monday. Here what I wear to work on Sunday. I got told by a co-worker that I look adorable. Also I had a customer asked if I work at dsw. I was like yes I do. Then she goes look at you top. Its super cute. I told her thanks. Yesterday work was good.
So I'm having a hard time getting ready for work
because
I feel like I have no clothes. Which I know that's not true. I think I feel this way because I don't have all my clothes yet due to I had to put them in storage. Plus I don't have my closet how I want it yet. I know its going to take sometime to get organize.
So today I had a lot of running around to do. I took Priscilla to the vet. The vet was amazed at the good health she is in. She is the prefect weight which is 52.6lbs.
On other news I hope to get better lighting soon and a mirror for taking pictures. Mainly
because
I feel my pictures haven't been the greatest lately.
Update on Hubby
aunt
she is doing much better.
I HOPE YOU ALL HAVE A GOOD MONDAY.