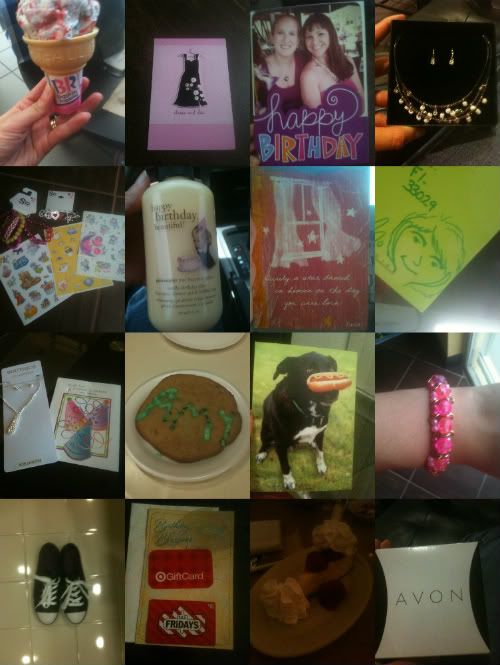 Hello Everyone. Here what I got for my Birthday.
Baskin Robbin with my friend Janet

Pink and Black Card From Scribble

Happy Birthday Card made by Melissa From A Working moms Closet

Avon Necklace From Janet

3 Pair of Earring, Bracelet and stickers From Scribble

Happy Birthday Body Wash From Sephora

Window Card From Erl

Green Envelope From Mandy and Drew

Party Hat Card and Necklace Set From Camille Of I am Never Naked

Cookie Cake made by Petra

Dog Card From Mandy and Drew

Pink Bracelet Made by MIL Peggy

Shoe From Hubby

Card From Oma With a Target and TGF Friday gift card

Cheesecake From Cheesecake Factory
Items that aren't pictured
Pink Lunch Box From MIL Peggy

4 Reusable Bag all Pink From MIL Peggy

Pink Water Bottle From MIL Peggy

Photo Album From MIL Peggy

Hand me Down Clutch From MIL Peggy

A Necklace From My Sister

Money From My Parents.
So I had a super good Birthday. I didn't do anything on my actually birthday but I did celebrated it on that weekend.
I want to Thank Everyone who sent me a card. I loved them all and they meant a lot to me.
I HOPE YOU ALL HAVE A GREAT MONDAY.