REMIX OUTFIT ~ SATURDAY AUGUST 27TH, 2011
Brown Tank From Target 4.00
Jeans From Old Navy~26.55
Earring From Fashion Bug- Gift from my Grandma ~ I have had these for a very long time and i still love them.
Necklace Form Weathervane
Hello Everyone. Here the outfit I wore on Saturday to work. I was going back
Thur
my blog and notice that I have never wore the brown sheer shirt with jeans before. It always has been
khaki pants but part of that has to do with my work dress code before.
On Saturday I close at work. So before work my new bed set arrived from Value
Furniture. Which is where I ordered it from. I get a 30% discount there for being an employee at DSW. We had to leave are old bed set behind due to it was not going to make another move. It traveled from Germany to Florida. Then from an apartment to a house in Florida. So it had got taken apart 3 times and moved across the world. We had it for 5 years so we got are use out of it. I will share the new on with you when the real bed get here. Right now a blow bed is on it.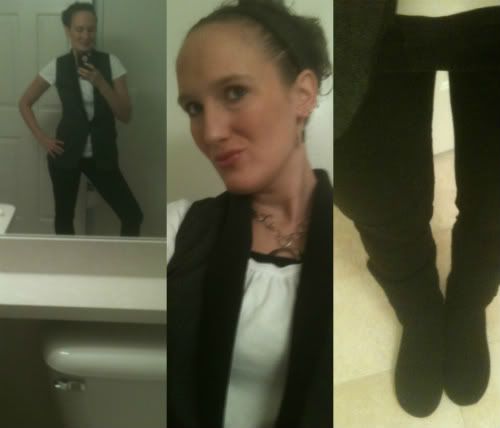 REMIX OUTFIT~ SUNDAY AUGUST 28TH, 2011
Black Cami From Target~9.99
Black Gap Skinny Pants Christmas Gift From Oma or Parents
Necklace From CR-.99 on Clearance
Black Circle Earring From The PX
Boots From Old Navy~34.50~ I got them for 30% off last year(2009).
Here the Outfit I wear yesterday to work. I you are wondering why I have been wearing boots a lot more. Well it is
because
I'm not allow to wear open toe shoe due to we are in the fall season. Work was good yesterday. After work Hubby and I went to Buca. Which it was super good. There was so much food that I brought the rest of mine home for lunch today.
I hope to be back to my normal blog schedule soon. More n likely when all my stuff come from Florida I will be back to normal with my blog.
Thanks again to everyone who has stuck with me during my move.
I HOPE YOU ALL HAVE A GOOD MONDAY.