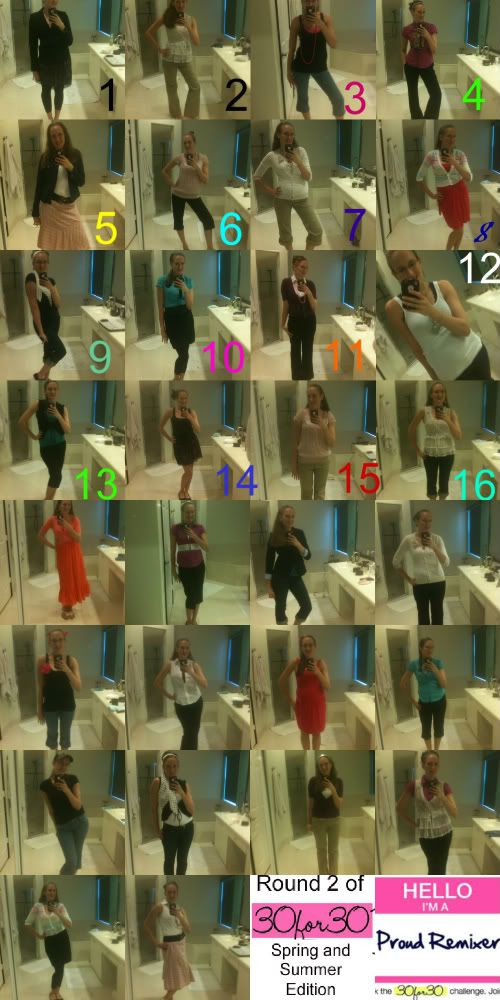 Hello Everyone. I want to post all my 30x30 outfit up. Sorry I didn't write the number on the bottom part. I just don't have the time due to I have to get a lot of stuff done today. We have the Realtor coming out at 4pm.
For this 30x30 I had a hard time putting outfit together for my days off. I find myself grabbing a tank or black tee shirt. Which you know I don't normal post my day off outfit. I only do when I going some where because I normally just wear sweats or yoga pants with and tank or tee.
Day 2, 16 and 28 On this day I learn was it ok to wear my lace vest with a color shirt. Also that I can wear it with any type of pants.
Day 9- On this day I learn that long scarf make fun headbands.
Day 17~I learn that I really don't like my corp orange cardigan. So it might be leaving my closet here very soon.
Day 20~ On this day I learn that I can wear my khaki and white cardigan with black pants. I normal just wear this cardigan with jean and khaki skirts and pants.
Day 29~ My Rainbow cardigan was a super good buy because it is super re-mixable.
My Favorite Outfit are Day 2, Day 4, Day 9 and Day 26.
What are your favorite outfit of mine.
I HOPE YOU ALL ENJOY MY 30X30 ROUND 2.
I HOPE YOU ALL HAVE A GOOD THURSDAY.
P.S. No Awkward and Awesome Thursday this week.