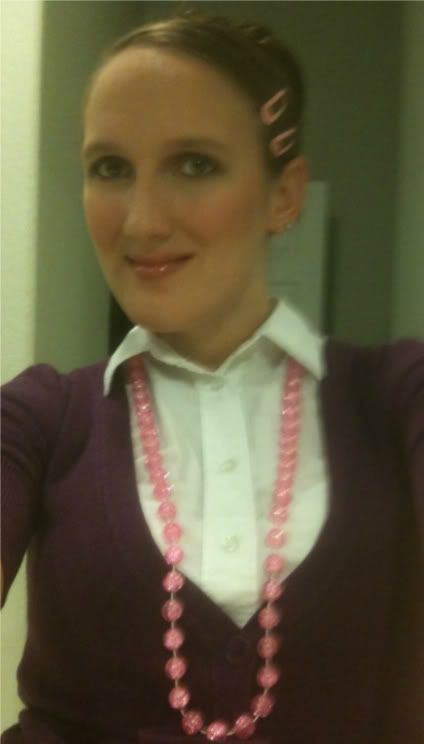 REMIX OUTFIT
Black Gap Favorite Dress Pants Gift From Oma or Parent( LOVE THESE PANTS)
Necklace From Dollar Tree~0.50
Earring From The Px~4.00
Hair Clip From Walmart 10 for 1.67
Dr Scholls Shoe From DSW~18.88
Hello Everyone. Happy Pink Day. Today is National Pink Day. Which I had no idea until I was reading
Sunny Days&Starry
Nights Blog. I already had my outfit plans. So when I find out that is it Pink Day I knew I had to add pink in to my outfit. It would have been wrong of me not to wear pink on this day. You all know it my all time favorite color. My lunch box is pink and so is my water bottle. I also own tons of pink items. Which you can see most of them in my Breast Cancer Awareness Post. Click the label to see them. So today is Thursday and you know what that means Awkward and Awesome Thursday.
~My zipper getting stuck on my Old Navy Jean that I couldn't zip them up on Tuesday
~Try to use the salad chopper and couldn't figure out why it was staying together. It took me 5 minutes to realize I was missing a piece to it.
~Having my band aid fall off my thumb at work and everyone see it was painted. The manger asked if I want a new band aid to cover it up.
~ Being able to sleep a little long in the mornings now. Due to Hubby is work a later shift.
I HOPE YOU ALL HAVE A GREAT THURSDAY.