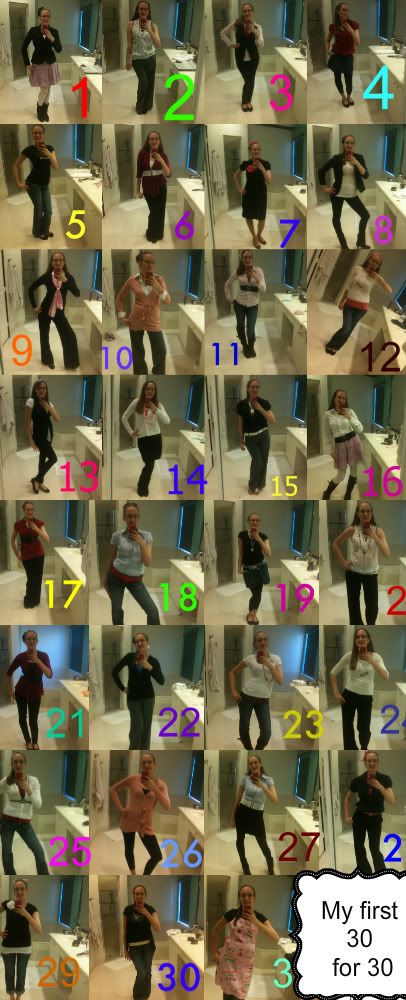 Hello Everyone. No outfit post today because its my day off. So I'm going to stay in my pj's today. So here Is My 30 for 30 recap. In this 30 day of only being able to wear 30 items. That I pick out. I learn it okay to take chance and try new things out.
On Day 1~ I was super nerves with what I picked out to wear. That I took a pair of pants with me to work. Once I got told I look cute and nice. I knew it was going to be a good day. Which my nerves clam down and there was no need for the pair of pants I brought to work.
Then on Day 2-20~ I did something different then I normal do. Which is wear a color Cami and long necklace over my white ruffle tank. I normally would just wear a white Cami or tank under it with a short necklace or no necklace.
On Day 6~ I switched it up again. I normal only wear my purple cover up with a black t-shirt and black belt but for this day I did a white lace Cami with a white belt. Which I love how it turn out.
On Day 7~ Wasn't feeling the outfit to much but this is my second most view outfit with 86 views.
Then we have Day 8~ Man did I feel

HOT

this day. I felt like I was a model or a celebrity. Which this day got the most view. Which was 91 view.
For my last one is Day 22~ I never would have thought to mix those 3 colors together before doing 30x30.
There is two day 30 because on was my Cleaning apron and the other is how I went out that day.
Also leggings became my best friend in doing this 30x30. I used to never be a leggings girl but now I love them. I also learn how to wear my grey pant with more tops. Before 30x30 It took me one month to even wear them. So I got a lot of use out of them. Also my hard rock shirt that was new is this

challenge.

It sat in my closet for 2 month before 30x30.
I had so much fun doing this. I will so do this again for another season. I will say I'm happy to have my clothes back. Special my other pants.
NOW HERE MY FAVORITE OUTFITS FROM 30X30
DAY 8~ READ ABOVE WHY THIS IS MY FAVORITE.
DAY 10~ I felt like a business woman here.
What ones are your Favorite outfit.
I HOPE YOU ALL HAVE A GREAT MONDAY.